TDR/VNA Tester
Capable of measuring a large number of boards unattended,
24 hours a day. Auto loader model to save labor cost.
HTA3540AL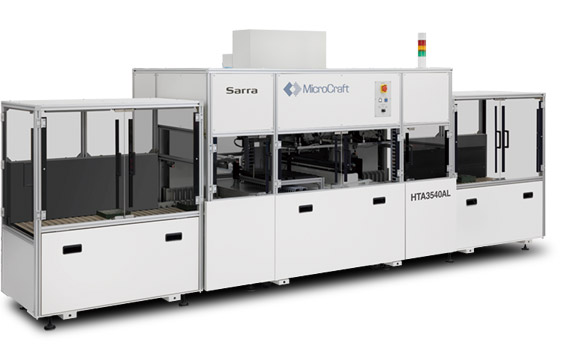 TDR Measurement System with Full Automation
HTA3540AL
An auto loader model with tester section located in the center and autoloader/unloader on left and right sides. Capable of handling 520 pcs * with unattended operation. PCBs are transfer from loader on the right side to the tester section. After test, PASS board shall be transferred to unloader on the left side and FAIL board shall be stacked in FAIL stocker (up to 80 pcs *). As a standard feature static eliminator (ionizer) to remove static electricity is equipped. * When board thickness = 1mm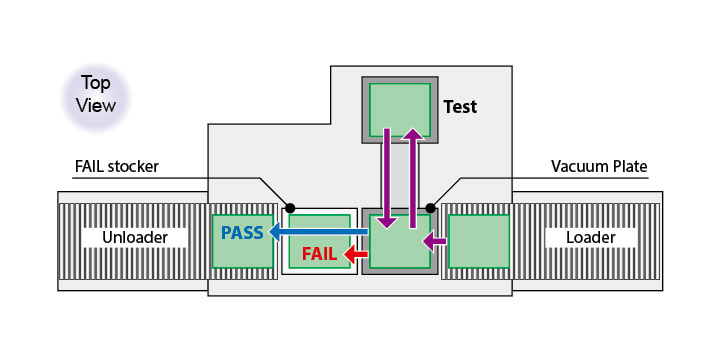 Operator needs only to place the boards onto the stacker, rest the machine shall automatically transfer the boards for testing. After testing, boards can be separated to PASS and FAIL boards.
Detailed Specification
HTA3540AL

Max. Test Area

13.7 x 15.7" (350 x 400 mm)

Max. Board Size

13.7 x 15.7" (350 x 400 mm)

Min. Board Size

3.1 x 2.3" (80 x 60 mm)

Max. Board Thickness

0.08" (2 mm)

Clamp System

Vacuum Plate

Stackable Boards

520pc (when thickness=1 mm)

Max. Transferable Panel

13.7 x 15.7" (350 x 400 mm)

Min. Transferable Panel

3.1 x 2.3" (80 x 60 mm)

Max. Transferable Weight

1.1 lbs. (0.5 kg) *1

Rotate Radius

Single end probe: 360°
Differential probe: ±180°

Repeatable Accuracy X–Y

±0.16 mil (±4 µm)

Repeatable Accuracy θ

1°

Impedance Accuracy

*2

Single end: 50 Ω±1%
Differential: 100 Ω±1%

Air Supply: Pressure

0.5 MPa

Air Supply: Volumetric flow rate

0.12 ft³/min. (3.5 ℓ/min.)

Power Supply


Three Phase AC200–240 V 50/60 Hz

20 A

Weight

1984 lbs. (900 kg) *3

Dimensions [ unit: inch(mm) ]

Required System

Control PC & Monitor *4

Operating Conditions
70–75°F (21–24°C), 30–70% relative humidity


*

Do not use under the environment that has heavy condensing, dust, vibration, and/or corrosive gas.
Atmospheric Dew Point: −14°C or below (at 0.7 Mpa, dew point is 15°C or below)
Oil Mist Concentration: 1 mg/㎥ (ANR) or below
Supported Meter
*5
Tektronix

DSA8300
DSA8200
TDS8000
11801B/C

Keysight Technologies

E5063A option TDR
E5071C+ENA option TDR
E5080B+option TDR
86100A/B/C
54750
N1000A
N5224B

Teledyne LeCroy

WaveExpert100H+ST-20

MicroCraft

MZPC30
MZPC50
Please feel free to contact us for questions regarding the machine specs, quotes, inquiries for a brochure from the following phone number or the inquiry form. The equipment seen in the lineup are customizable to address your needs.