TDR/VNA Tester
Capable of evaluating characteristics of devices and substrates used in 5G applications.
High-frequency characteristics measurement system that meets the requirement of the next generation.
E2V6151 / E3V6151 / E4V6151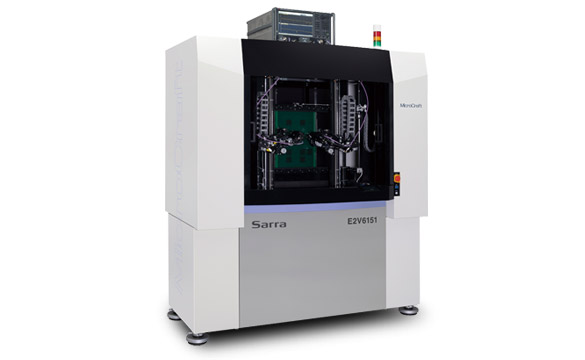 VNA Tester
E2V6151 (2 Probe)
E3V6151 (3 Probe)
E4V6151 (4 Probe)
VNA (Vector Network Analyzer) is connected to automatically measure the high-frequency characteristics, including S-parameter measurements, and evaluate characteristics for devices and boards used in 5G applications. It is also used for various applications such as transmission loss measurement of high-speed transmission printed circuit boards for data centers and back-drill defect detection. The probes can rotate 180°, allowing the probes to come close to each other, and CCD camera is used to directly view the probing location. It is able to connect with various VNA and TDR measuring meter. In addition, 4-probe model allows front to back measurement of the board.
Probes contact with both endpoint of the trace to measure S-parameters.

Probe such as Form Factor's ACP series, is mounted on each arm to make contact at endpoint of the trace.
High Frequency Probe Unit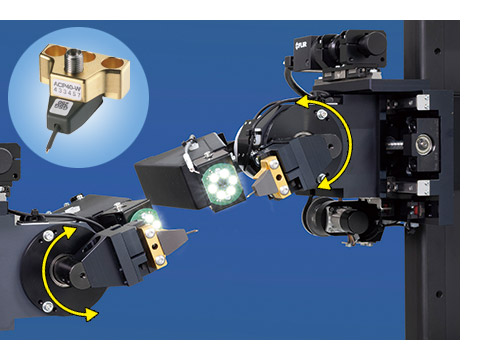 180° Rotation Mechanism
The high frequency probe unit is equipped with a rotation mechanism which allows close proximity between probes enables testing of various pad arrangements. High frequency probes such as the ACP series by Form Factor and many others are supported.
Detailed Specification
E2V6151
(2 Probe)
E3V6151
(3 Probe)
E4V6151
(4 Probe)
Max. Test Area

22.4 x 18.1" (570 x 460 mm)

22.4 x 18.1" (570 x 460 mm)

22.4 x 18.1" (570 x 460 mm)

Clamp System

Pneumatic clamp

Pneumatic clamp

Pneumatic clamp

Rotate Radius

180°

180°

180°

Repeatable Accuracy X–Y

±0.16 mil (±4 µm)

±0.16 mil (±4 µm)

±0.16 mil (±4 µm)

Repeatable Accuracy θ

1°

1°

1°

Air Supply: Pressure

0.5 MPa

0.5 MPa

0.5 MPa

Air Supply: Volumetric flow rate

0.12 ft³/min. (3.5 ℓ/min.)

0.12 ft³/min. (3.5 ℓ/min.)

0.12 ft³/min. (3.5 ℓ/min.)

Power Supply


Single Phase AC200–240 V 50/60 Hz

10 A

12 A

15 A

Weight

3307 lbs. (1500 kg)

3329lbs. (1510 kg)

3351lbs. (1520 kg)

Dimensions [ unit: inch(mm) ]

Required System

Control PC & Monitor *1

Operating Conditions
70–75°F (21–24°C), 30–70% relative humidity


*

Do not use under the environment that has heavy condensing, dust, vibration, and/or corrosive gas.
Atmospheric Dew Point: −14°C or below (at 0.7 Mpa, dew point is 15°C or below)
Oil Mist Concentration: 1 mg/㎥ (ANR) or below
Supported Meter
*2
Keysight Technologies

E5063A
E5080B
N5224B
P5007A/B
P5027A/B

Rohde & Schwarz

ZNA40
ZNB40
Please feel free to contact us for questions regarding the machine specs, quotes, inquiries for a brochure from the following phone number or the inquiry form. The equipment seen in the lineup are customizable to address your needs.